SIM cards
Thailand is home to several network providers with a wide range of services and rates. Some of these services include 4G, 5G, pre-paid and post-paid mobile numbers, and Wi-Fi in some of the kingdom's more popular areas. The main service providers in Thailand are AIS, DTAC, True Move. They make up around 97% of the market in Thailand. So, using one of their prepaid SIM cards is the best option for tourists. Prepaid Sim cards are commonly available with a package of data and validity of 7 days, 15 days, or 30 days. You will find their service counters at the airport or any convenient store near your accommodation. Please also note that you might need show your passport in order to buy a SIM card in Thailand.

You can visit their websites for more recommended packages.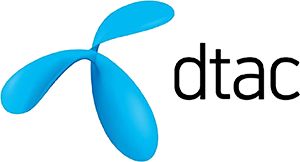 Wi-Fi Connection
Hotels, restaurants and cafés in Thailand provide free Wi-Fi internet access to their guests and customers.

Airport Wi-Fi and Internet
Free Wi-Fi is available at Suvarnabhumi Airport for up to 2 hours per day. There are 126 free internet kiosks located around the airport. Each user can access a 15-minute internet connection at a time. Once the period ends, those who want to continue the service may then log in again. Internet access is also available 24 hours at CAT Telecom Internet Cafés behind the check-in counters (Row W) and at G aerobridge on the 2nd floor.